Small Business Accounting Services

Many small businesses require a higher level of accounting services than what their on-staff bookkeeper may offer but simply can't afford to hire a full time controller.   We provide these administrative level Small Business Accounting Services on an as needed basis so you can get the required services you need without having to commit to a full time employee.

Business Coaching Services

We also offer the small business owner Business Coaching Services that allows us to utilize our extensive business background to help you manage your business better.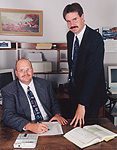 Matlyn – Established in 1993

Our President and founder Matt Geelhoed brings a wealth of accounting knowledge and experience to our clients.  With a degree in Business Administration with a major in Accounting from Western Michigan University along with many years of experience in Public, Non-Profit and Private Sector accounting, you can be assured that you are receiving the right advice and service from Matlyn, Inc.  We also utilize a network of area professionals to assist with legal, tax, investment and insurance services so you always have the needed resources at your disposal.
Contact us today for a free consultation on any of our services.
Personal Financial Services
Personal Financial Coaching
We have extensive experience working with individuals and families to create successful personal financial life plan using our Personal Financial Coaching Service.  Establishing the correct plan is essential to your financial success.  We work with you in establishing a budget, eliminating debt, creating financial security as well as asset protection.
Daily Money Manager (DMM)
Let us help you organize your finances. With over three decades of experience managing money for business, we can also assist people with managing their personal finances. Bill Paying, File Organization, Budgeting and more. Our clients are seniors and professionals looking for assistance with managing their personal finances.